At the IWA on Saturday night the Women's Super League ladies had a strong win on their second game of the season against Fr Mathews from Cork.
The Women came out with a powerful game and took a 15 point lead in Q1 and ran with that, pulling out an amazing 29 point lead in Q4. Catalyst Fr. Mathews rallied in Q4 with 22 points and held Killester to only 10 points. Final score was Killester 81 – 67 Fr. Mathews
Top scores to Jiselle Thomas 21 points, Ieva Bagdanaviciene 18 Points and Claire Melia 16 points.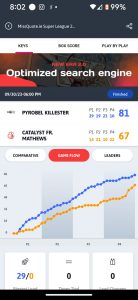 Head coach this year is Johnny Grennell, and Brian O'Malley has taken up the role of assistant coach. This year we welcome back Kason Harell and Greg Adon to the team.
Delighted to welcome back
Farouq Deji Raheem
from injury and a trip to Canada and also Andy McGeever back to
Killester after a few years missing.
Final score on the game was 84 – 77, a hard loss on the first night out but onwards and upwards. It was hard to come back from at 16 point lead and at one stage it was back to only 2 points in the last quarter. Top Scores to Kason Harrell with 23 points, Greg Adon with 16 points, and Paul Dick with 9 points.