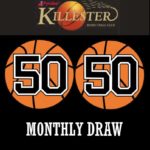 Killester Basketball Club is delighted to announce that we will hold the first of six monthly 50:50 fundraising draws on Saturday October 17th.
Each draw has a guaranteed winner.  The jackpot prize will be exactly 50% of the total tickets purchased, the other 50% goes to supporting our clubs teams.
Tickets for the draw are €10 or you can purchase 3 tickets for €25.
The draw will take live on Killester Basketball Club Social Media. 
There are some special offers available for frequent supporters of the draw, entry to all six draws can be purchased for €48 (20% savings) and 3 tickets to all six draws can be purchased for €135 (25% savings).
Tickets can be purchased at https://member.clubforce.com/ticket-list.asp?LL_ID=2000#topp
Draw Dates
17th October
21st November
18th December
22nd January
26th February
26th March
More details for this Saturday's draw to follow
Best of luck and thanks for your support!